'Liquid Thought' - Di Cubitt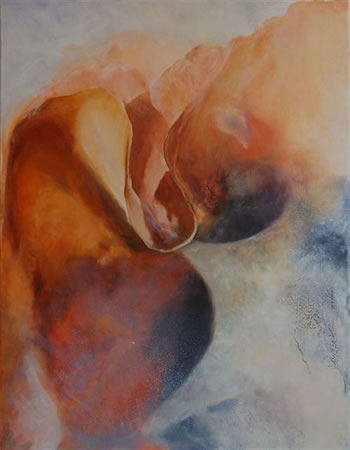 My inspiration for these works stems from my interest in how we perceive the elemental forces of our world, such as the movement of wind, thermals, air pressure and so on. These phenomena are more often felt than seen, but the marks left on the materials they come in contact with are a visible reminder of their existence.
Water, in particular has a special fascination for me. It provides the perfect surface for reflecting, in both a meditative and material sense. The constant movement, gentle or otherwise, presents to us a procession of ever-changing images; its passage always leaves unique patterns in its wake.
The methods and techniques used in the making of these paintings - particularly that of poured paint - reflect the exploration of these ideas and the thought processes that inform them. Each step taken is a response to the previous steps - making connections, building layers and drawing together threads. Working within this process - allowing the paintings to develop in this way - the outcome can be as unpredictable as the elements that inspire them.
Di Cubitt August 2007
Artists