Jarrad Martyn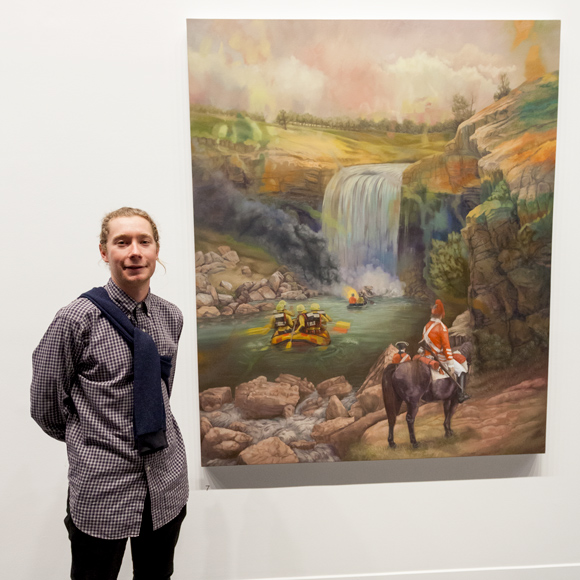 Jarrad Martyn (b. 1991 Aberdeen) is a Western Australian artist whose practice investigates how we engage with space to gain a greater understanding of it, as well as the broader themes of our reliance on bodies of authority as purveyors of 'truth'. His practice involves collapsing the distinctions between figuration and expressionism, the real and the imagined and the past and the present to create an open ended set of external and internal meanings through painting, collage and installation.
Since graduating from Curtin University in 2013 with a B.A. in Fine Arts (Honours) Martyn has gone on to win numerous art awards. His painting Removal won third place in the 2014 Linden Postcard Show held at the Linden Centre for Contemporary Arts in Melbourne. Martyn was invited to create a mural as part of Public 2015.
His work has been acquired by the Curtin University Art Collection, Edith Cowan University Collection, City of Joondalup Collection and other institutions. Martyn was the overall winner of both the City of Joondalup Community Invitation Art Award and the Award for Excellence in 2017. In 2018 his searing work 'Range' saw Martyn announced as the winner of the prestigious John Stringer Prize.
Link: https://thewest.com.au/entertainment/art/layers-peel-away-ng-b88974737z
https://jcg.curtin.edu.au/john-stringer-prize/
Image of Jarrad Martyn, Winner John Stringer Prize 2018 for 'Range' courtesy John Curtin Gallery
ARTIST STATEMENT 'reincarnation' 2018 - Jarrad Martyn
The works created by Martyn for reincarnation continue his exploration into Australian history. The range of imagery used from different historical periods has increased to create a more conversational meaning of the history being explored. The resulting narrative becomes more unresolved. The use of paint which slips in-between figuration and expressionism encourages the audience to look longer to try and deduce what is unfolding and to ultimately consider how complicit they are prepared to be in that framing.
Curriculum Vitae

Jarrad-Martyn-CV-2019.pdf
(pdf 62kB)
Exhibitions
Works
oil on canvas 2018, 120 x 120cm

$2,600.00

graphite on paper 2018, 54 x 77cm

$700.00

oil on canvas 2018, 54 x 35cm

$650.00

graphite on paper 2018, (framed)

$500.00

oil on canvas 2017, 57 x 78cm

$1,300.00

oil on canvas 2017, 64 x 86cm

$1,200.00

graphite on paper (framed) 2017, 74 x 62cm

$750.00

oil on canvas 2016, 100 x 125cm

$2,000.00

oil on canvas 2016, 54 x 73cm

$1,050.00

graphite on paper (framed) 2016, 32 x 52cm

$600.00

oil on canvas 2015, 96 x 168cm

$2,000.00

oil on board 2014, 91 x 122cm

$1,400.00

oil on canvas 2018, 180 x 150cm *WINNER, JOHN STRINGER PRIZE 2018*

oil on canvas 2018, 104 x 72cm *ACQUIRED BY THE EDITH COWAN UNIVERSITY COLLECTION (WA)*

oil on canvas 2017, 49 x 64cm *CITY OF SWAN COLLECTION*

oil on canvas 2017, 55 x 75cm

oil on canvas 2017 (Image of Martyn with 'Territory' courtesy Justin Bianchini, Joodalup Community Times) *WINNER, CITY OF JOONDALUP ART AWARD (ACQUISITIVE) 2017*

graphite on paper (framed) 2016, 29 x 39cm

oil on canvas 2016, 21.5 x 27.5cm

oil on canvas 2016, 30 x 40cm

graphite on paper (framed) 2016, 42 x 30cm

oil on canvas 2016, 144 x 128cm

oil on canvas 2016, 45 x 58cm *ACQUIRED BY THE SHIRE OF DANDARAGAN ART COLLECTION*

oil on board 2014, 60 x 90cm

oil on canvas 2013, 120 x 100cm