'Walls Talk' - Pierre Capponi & Denise Pepper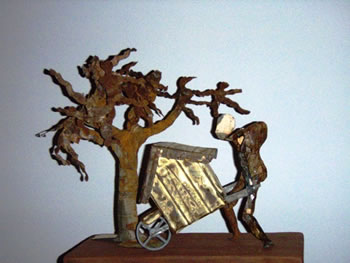 'Walls Talk' is the joint solo exhibitions of sought after sculptor Pierre Capponi and acclaimed glass artist Denise Pepper. As well as featuring Pierre's distinctive whimsical pressed tin sculptures and Denise's exquisite glass works, the pair have also worked together (as they did in the 2010 Sculpture by the Sea Cottesloe exhibition) to produce some amazing collaborative works combining elements of both pressed tin and glass.
Denise Pepper has also produced a series of exquisite glass jewellery for the exhibition.
Denise and Pierre's sculptures rediscovers the history within our houses, by reinterpreting objects found in the domestic space and perhaps common to another time.
Artists