'The Passage South' - Ayad Alqaragholli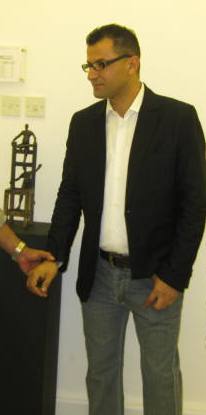 Iraqi born artist Ayad Alqaragholli's new exhibition 'The Passage South' of silicon bronze sculptures and included paintings opens at emerge ART SPACE, Mt Lawley Wed 22 August 6 – 7.30pm. It is Ayad's third Australian solo exhibition. Ayad has exhibited in three Sculpture by the Sea Cottesloe exhibitions (2010-12) and also at the invitation only Sculpture by the Sea Bondi 2011 exhibition. His works is held in many significant private and institution collections both in Australia and internationally, including the collections of Janet Holmes a Court, Kerry Stokes and Robert and Trish Juniper.
Ayad was an established and acclaimed artist in the Middle East before coming to Australia as an immigrant with his young family in 2005. He has recently returned from exhibitions in both Jordan and the University of Kyoto, Japan where he was invited to exhibit together with many other renowned international artists. It was during a symposium of many Middle Eastern artists in Jordan that Ayad took inspiration from the varied and often poignant stories of human suffering and oppression shared amongst the artists to produce the body of work for 'The Passage South'. Ayad sought to reflect the conflicted Middle Eastern situation, and the universal human condition experienced by the people particularly of Egypt and Syria in his signature elongated silicon bronze sculptures created for this exhibition.
In contrast to the harrowing tales he experienced in the Middle East, Ayad seeks to also depict the 'Paradise' he and his family have found living in his adopted country of Australia. He reminisces about his kindergarten teacher in Iraq speaking of the 'vision of Paradise as a green and pleasant place, with beautiful and kind people with blonde hair and blue eyes'. Ayad says, 'And when I arrived in Perth it was as if I had indeed been transported to Paradise, where the people on the street seemed to be the living embodiment of the place my teacher had spoken about'.
Ayad's bronze intertwined figures of lean, tall bodies clearly celebrate the spectrum of the human body and the deep harmonious relationships that are the backbone of one's true home. Chairs, elongated human and angelic forms are recurring motifs throughout his work, as figures appear to be clinging at precarious angles where the person could fall but chooses to fly towards a better life. It is Ayad's continual exploration of the migration journey and the notion of 'home' as a foundation for life that underpins all of his exquisite artworks.
Artists
Artworks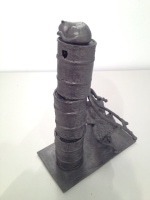 silicon bronze 2012, Edition 1 - 3/7 SOLD, other editions available, 36 x 26 x 14cm
$5,000.00