Anne Walmsley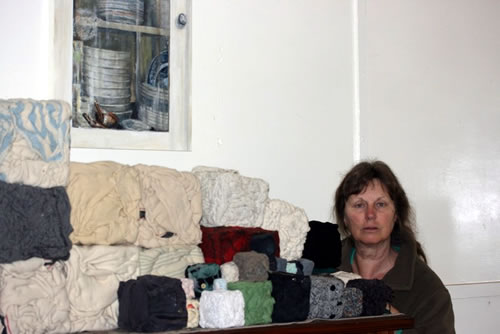 I'm a regional artist of a certain age and taking my time to smell the sweet peas has become very important. "The pause makes it possible for a locality to become a centre of felt value" (Tuan, Y F. Space and Place. The Perspective of Experience 2005)
In my work I investigate my 'locality' with paint or found objects, using traditional or non-traditional craft techniques in 2d or 3d formats. I explore ideas of belonging, time and memory using everyday domestic objects and spaces. By capturing ordinary suspended glimpses in paint or re-using old materials to create new objects, I link 'place' with feeling and reflect the antithesis of the hi-tech, rushed, time-driven world of contemporary urban existence.
The material I choose with its imbued meanings, along with the process of making are considered elements in my work. In recent years I've been manipulating textiles -clothes and blankets - into simple cube shapes. I see them as a kind of soft building block or a feminized minimal cube. The repetitive act of the process of the making and the use of multiples echo the repetition of simple everyday living. I may spend years hand making a work. It becomes a meditation.
The experience of the slow tradition of painting is important to me. It inherently pauses time. Its uniqueness and ability to create illusion from tangible base elements is fascinating and I honour the time laboured skills and craftsmanship of the practice.
Anne Walmsley
ARTIST STATEMENT 'WIP' (Work in Progress) 2018 - Anne Walmsley
After a period of absence I have just started painting again.
These four works present my lead up to future projects in both my painting and textile base practices.
The two textile 'paintings' are made up of babies' booties, bonnets, matinée jackets and little jumpers…all lovingly hand knitted and worn by some much loved babies and toddlers. These are sewn into 'cubes' and assembled flat on a painting support in a grid like pattern. They're a romantic and nostalgic response to 'women's work' and creative spirit merged with influences of a mainly patriarchal history of Minimalism and Post Modernism.
The two more traditional still-lives depict some objects I use and reflect my 'getting back into' painting. Valuing and elevating the 'ordinary' and 'everyday' is always a big part of my work. Of course my ever present cup of tea is a tool that initiates reflection and focus and is often in one hand while working.
ARTIST STATEMENT 'reincarnation' 2018 - Anne Walmsley
Ordinary death gives us advanced warning of its arrival …. (1)
I was prepared….
I have been plagued and privileged to witness the process of decline and death of a loved one. I felt the beginning of her absence well before her last breath.
Some of her happiest moments were propagating and nurturing her much loved garden. I cultivate and cherish her garden now as she once did and there her presence continues and we "talk".
(1) Philippe Aries. The hour of our death, 1981. Oxford Uni Press. NY.
Exhibitions
Works
textiles on board 2018, 40.7 x 40.7cm

$1,200.00

acrylic on board 2018, 40.7 x 40.7cm

$1,200.00

acrylic on board 2018, 120 x 120cm

$3,200.00

acrylic on board 2018, 60 x 60cm

$1,400.00

textiles on board 2018, 40.7 x 40.7cm

$1,200.00

acrylic on board 2018, 40.7 x 40.7cm

$1,200.00

acrylic on board 2016, 60 x 60cm

$1,400.00

acrylic on board 2016, 60 x 60cm

$1,400.00

acrylic on board 2015, 60 x 60cm

$1,400.00

acrylic on board 2015, 60 x 60cm

$1,400.00

acrylic on board 2015, 60 x 60cm

$1,400.00

acrylic on board 2015, 60 x 60cm

$1,400.00

acrylic on board 2015, 60 x 60cm

$1,400.00

acrylic on board 2015, 60 x 60cm

$1,400.00

acrylic on board 2015, 60 x 60cm

$1,400.00

acrylic on board 2015, 130 x 130cm

$3,200.00

acrylic on board 2015, 130 x 130cm

$3,200.00

acrylic on board 2015, 60 x 60cm

$1,400.00

acrylic on board 2015, 60 x 60cm

$1,400.00

acrylic on board 2015, 60 x 60cm

$1,400.00

acrylic on board 2015, 130 x 130cm

$3,200.00

acrylic on board 2014, 61 x 61cm

$1,300.00

acrylic on board 2014, 61 x 61cm

$1,300.00

acrylic on board 2014, 61 x 61cm

$1,300.00

acrylic on board 2015, 60 x 60cm

acrylic on board 2015, 60 x 60cm

acrylic on board 2014, 61 x 61cm