'Draw me after you, let us run' - Dan Gladden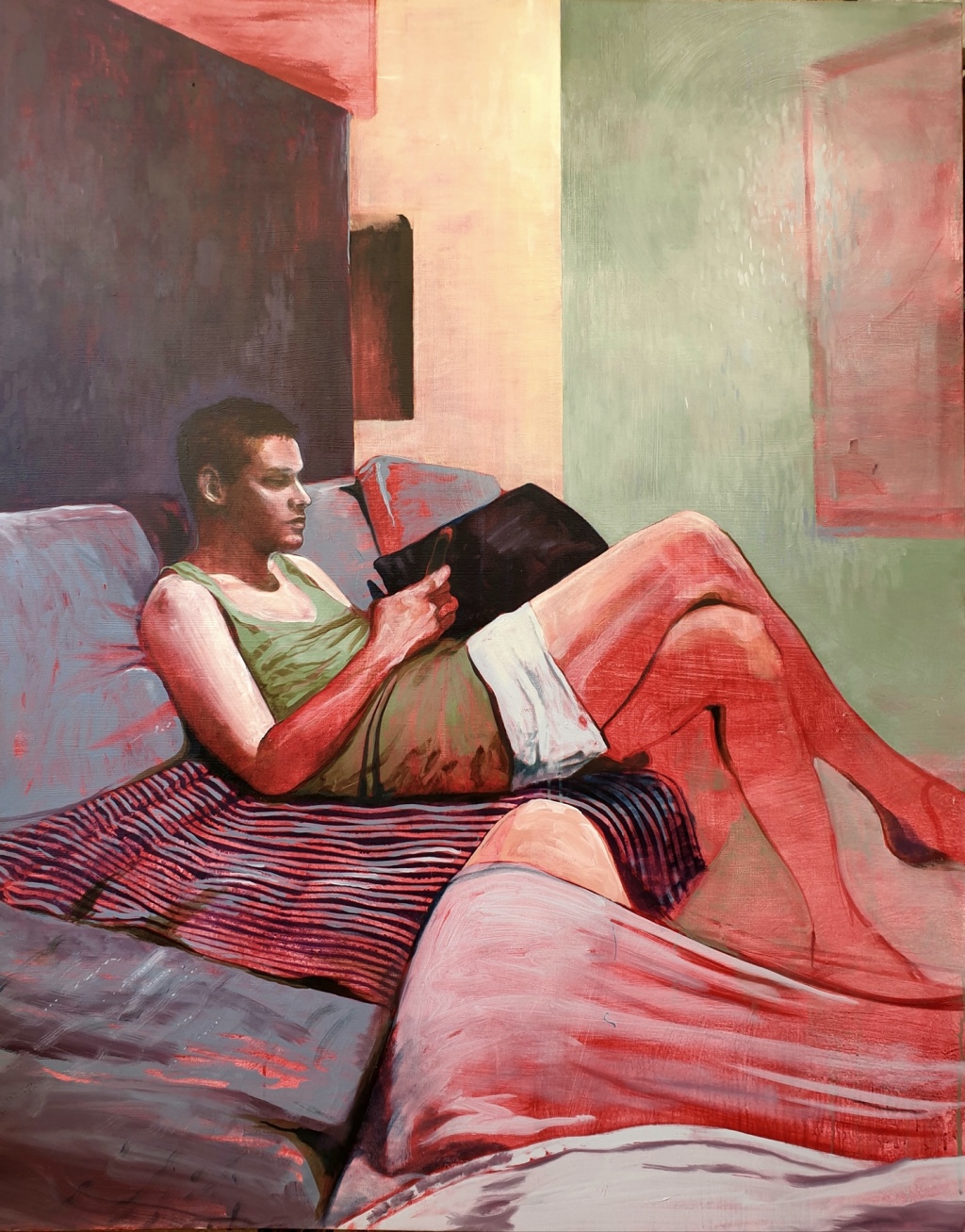 Dan Gladden was born in 1983 in Perth, Western Australia, and completed his Bachelor of Visual Arts (Hons) in 2006. Gladden's work has been exhibited both nationally and internationally, in solo and group exhibitions including Hatched 06, the National graduate exhibition held at PICA. His figurative paintings and drawings explore ideals of the masculine form, and analyse the construction of archetypal male identities and personal queer experiences.
After completing a residency in Singapore where he created an entire series of works focusing purely on his own relationship to his body, artist Dan Gladden fell into a deep depression and disconnected from his art and any desire to make or relate to art. He had burdened myself with the pressure of being 'not queer enough'; his safe experiences and life of privilege felt irrelevant. He buried himself in distractions and his day job. As he slowly picked himself up, he began to make small drawings in his sketchbook from photos of fleeting moments captured in his phone to try and rebuild his skills. It was through this that he rekindled his interest in art again and began developing a new body of work that moves away from introspection but remains deeply connected to his own personal, and queer, experience as a gay man today. Love, power and happiness can be a powerfully queer statement, and in the words of painter Doron Langberg, 'Queerness can be a lens through which to view the world and experience relationships, beyond the sexual'.
Gladden had neglected to realise the simple rebellion that exists in our current climate simply by living a life of openly gay love and that it wasn't necessary to represent an entire community - it was okay to explore his own experiences as valid and worthy of celebration. Upon further investigation, he realised that there is a long history of explicitly queer moments celebrated amongst mundane urban/domestic scenes celebrated by artists such as Louis Fratino, David Hockney and Wolfgang Tillmans to name but a small selection.
Draw me after you, let us run is a line taken from the Song of Solomon in the Bible, a chapter that is historically considered one of the great historical poems of love and sexual desire. Gladden has used this as a way of reclaiming power for gay love, as this exhibition is intended as a visual love song to domestic bliss in its queer form. The works comprise a selection of paintings and drawings exploring the small quiet moments in his life, intimate moments, candid glimpses of his partner forming at the edges or loosely at the centre of compositions to act as a celebration of love and an outward expression of the normality we experience in everyday life, which at times feels like a quiet act of rebellion in the current political climate that tells us to focus on fear.
Hear Dan speak about his exhibition on YouTube:
Hear Dan speak about his exhibition on YouTube
Artists
Pieces

charcoal, pencil and acrylic on board 2020, 30.5 x 23cm

$400.00

acrylic and oil on canvas 2020, 153 x 122cm

$3,000.00

charcoal and pencil on watercolour paper 2018 (framed), 41 x 29cm

$600.00

charcoal and pencil on watercolour paper 2018 (framed), 41 x 29cm

$600.00

charcoal and pencil on watercolour paper 2018 (framed), 29 x 41cm

$600.00

acrylic and oil on canvas 2020, 137 x 102cm

oil on canvas 2020, 61 x 76cm

mixed media on board 2020, 30.5 x 23cm

acrylic and oil on canvas 2020, 153 x 122cm

spray paint and oil on board 2020, 46.5 x 30.5cm