'Disconnection'- Claire Steele / 'Osmosis' - Alana McVeigh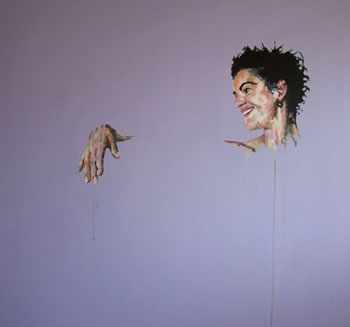 'Disconnection' is UK born artist Claire Steele's first solo exhibition in Australia after she emigrated in 2002. She is the 2009 winner of the Painting section of the national Churchie Emerging Art Award.
Originally when working on the series of portraits for this exhibition that expressed a range of emotions from fear to euphoria, she realised that the emotions she was conveying all had someting in common, disconnection. The paintings include migrants to Australia and their struggle to feel part of a different culture, who long for their family or for their country to be at peace. Others yearn for a different, possibly past life where communities were stronger and more inclusive than they experience in Perth. Additionally, there are people who have experienced prejudice or a lack of understanding and empathy from others around them.
This thought provoking exhibition hopes to highlight and explore the underlying theme of disconnection and invites the viewer to share in Claire's emotional painting journey.
'Osmosis' is acclaimed ceramicist Alana McVeigh's fourth solo exhibition in Australia. Fusing the influences of Eastern traditiona nad Western philosophical discourse, Osmosis is an exploration of the ubiitiquitous markings left behind by time. there translucent wheel thrown forms carry the textured patterns referencing the subtle imprints caught between the flow of the natural world.
The accumulation of knowledge through experience is pivotal to Alana's practice.It is the gathering of technical knowledge that has become intuitive, and one that privileges a relationship with her chosen material; porcelain.
Artists